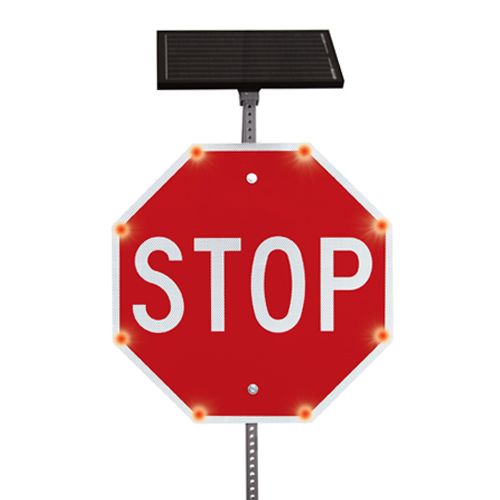 LED Enhanced Signs
SA-SO's finished LED Enhanced Signs aid in increasing driver and pedestrian awareness to help them avoid accidents in school zones, heavy traffic or accident-prone areas.
Available in either amber (yellow), red, or white LED lights. These signs are completed and ready to use right out of the box! The signs are completely self-contained. Low cost and low maintenance, they utilize renewable energy and can easily enhance the visibility of any dimly-lit sign, anywhere. Please note: LEDs embedded into a sign are in compliance with section 2A-1 of the MUTCD and are not subject to color or placement changes.
The LED enhancement is a conspicuity enhancement. It is not a traffic control device. The purpose of the LED enhancement is to increase visibility and driver awareness. The traffic sign is what determines if it is a traffic control device.
LED Enhanced Signs- Solar or AC Powered
Available in Red, White, and Amber
Weather-resistant enclosure
Assembled in and shipped from the USA
MUTCD compliant
Field repairable, modular design
Multiple activation methods available
Where do I install this?
New pedestrian crossing areas
New or temporary construction traffic
Dangerous curves
Crosswalks
Intersections with high blow-through rates
Poorly lit areas
Roads that have the potential to flood (Learn more about FloodFlasher with SolarSync)