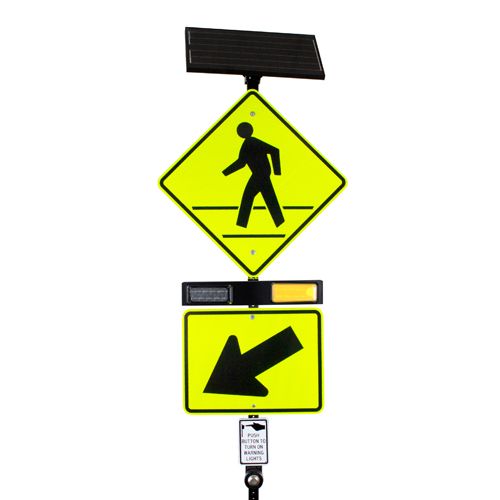 Pedestrian Crossing
SA-SO's Solar-Powered Rectangular Rapid Flashing Beacons help raise driver awareness and increase attention to areas where pedestrians cross. This solar-powered device is perfect for crosswalks and temporary construction sites. They are self-contained and only minimal wiring is required. Low cost and low maintenance, they utilize renewable energy and can easily enhance stop sign visibility at intersections where there is heavy pedestrian traffic.
An RRFB shall only be installed to function as a pedestrian-actuated conspicuity enhancement. It is not a traffic control device. Pedestrians should still utilize standard precautions when crossing the street.
Rectangular Rapid Flashing Beacon:
Solar Powered
Weather-resistant enclosure
Great for new traffic crosswalks
Multiple activation methods available
FHWA Compliant Flash Pattern
Activation / Package Options:
24/7 flashing
ADA pedestrian pushbutton activation with wireless communication and or countdown timer
| Description | Part No. |
| --- | --- |
| Rectangular Rapid Flashing Beacon | RRFB-1 |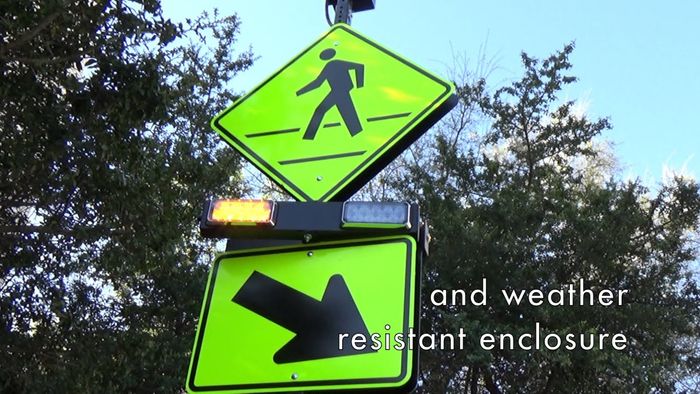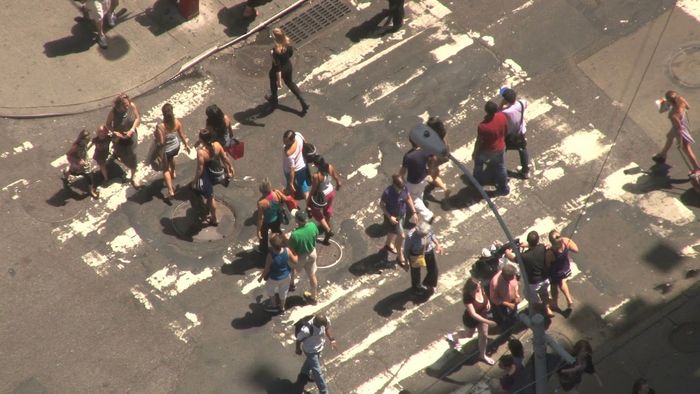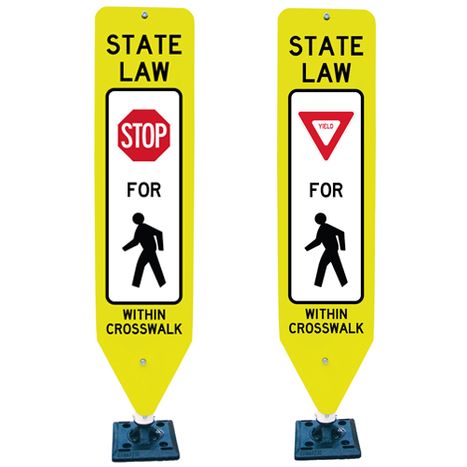 Crosswalk Signs
SA-SO crosswalk safety signs and school-crossing signicade signs are perfect for letting drivers know they need to be extra cautious. SA-SO suggests you place these portable crosswalk signs directly in the road or crossing area to compel drivers to stop or yield. Alert motorists approaching school zones that children may be playing nearby, and that students and pedestrians may cross the street in these areas. Keep the community safe with SA-SO products.
Crosswalk Safety Signs
Protect pedestrians with double-sided crosswalk safety signs
Made out of .050 aluminum with high intensity reflective sheeting
Narrow enough to place in the road and very noticeable
Size: 11" wide x 52" high and identical wording on both sides
| Description | Part No. |
| --- | --- |
| STATE LAW - STOP for Pedestrians | 36415S |
| STATE LAW - YIELD for Pedestrians | 36415Y |
| Asphalt Installation Hardware | 91400G |
| Concrete Installation Hardware | 91500, 91501, or 91502 |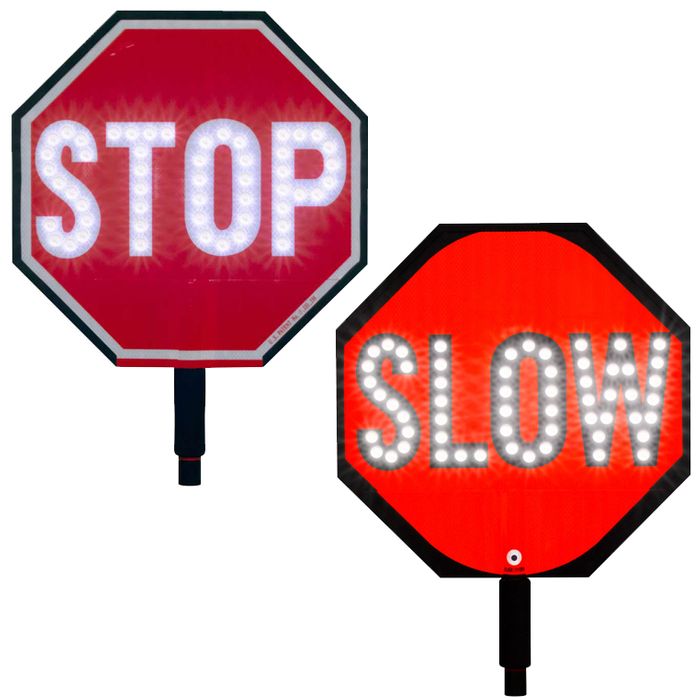 Traffic Control Paddles
SA-SO traffic paddles are designed to assist crossing guards in controlling and alerting motorists to the presence of pedestrians on well traveled streets. The LED traffic control paddles are impact-resistant and come in either STOP/STOP or STOP/SLOW versions. These paddles feature LED lights that provide greater visibility than standard traffic control paddles. LED lights may be adjusted to stationary or flashing modes.
LED STOP/STOP Paddle AND STOP/SLOW Paddle
Weighs one pound
Durable lightweight design
Visible up to one mile away
LED lights can be set to either stationary or flashing mode
Rechargeable lithium ion battery
Description
Part No.
18" LED

STOP/STOP

Traffic Control Paddle
STSPLED18
18" LED

STOP/SLOW

Traffic Control Paddle
STSWLED18
Ultra-Light™ STOP/STOP Paddle and STOP/SLOW Paddle
SA-SO's Ultra-Light™ traffic control paddles are impact-resistant and come in either STOP/STOP or STOP/SLOW versions. These traffic control paddles offer all of the benefits of aluminum paddles but are much safer and reduce the risk of personal injury. This is not a typical plastic paddle, it is made from a honeycomb polypropylene material that is extremely light and durable.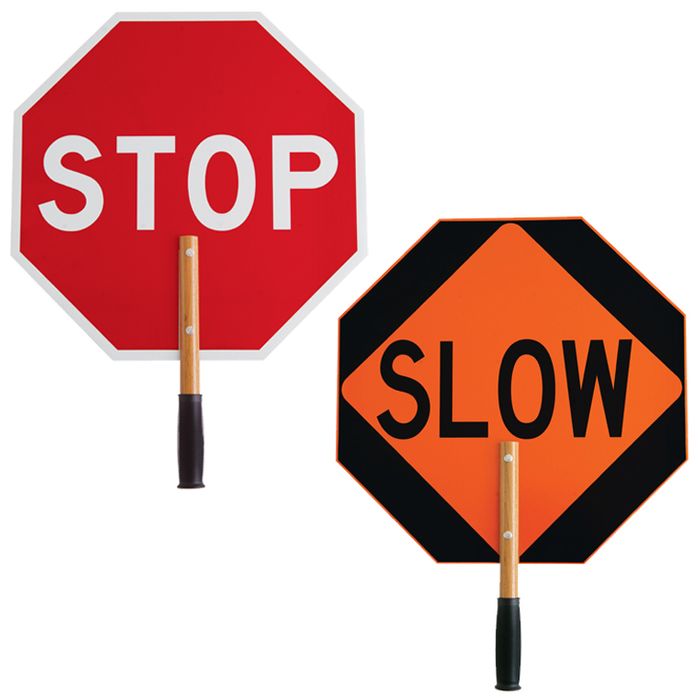 Weighs one pound
Durable lightweight paddles provide stability
Super Engineer Grade (SEG) Reflectivity
Easy-grip, non-slip handle
Lightweight wooden staff
Description
Part No.
18"

STOP/STOP

Ultra-Light Fully Reflective Traffic Control Paddle
03891FR
18"

STOP/SLOW

Ultra-Light Fully Reflective Traffic Control Paddle
03871FR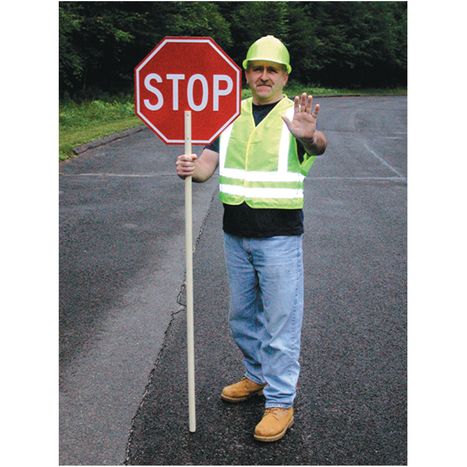 18" and 24" Double-Faced Aluminum Paddles
For construction zones, accident sites, or to alert motorists to upcoming hazards
Made from durable .080 aluminum
Impact-resistant STOP/STOP and STOP/SLOW paddle face offers superior durability
Size: 6' long staff; 6" letters
Size: 12" wooden handle; 6" letters
Description
Part No.
18"

STOP/STOP

reflective aluminum sign
03831STST
18"

STOP/SLOW

reflective aluminum sign
03851STSL
24"

STOP/STOP

reflective aluminum sign
03381STST
24"

STOP/SLOW

reflective aluminum sign
03381STSL
6' Long staff
02379
12" Handle with rubber grip
02839